Have Nails Done, Massages, Relax, Unwind and Enjoy
The day before the wedding you should have plenty of time to finally relax and unwind allowing you to enjoy this special time in both your lives.
You have had months and months of careful wedding planning and preparation leading up to this big day that you will look back on for years to come. Enjoy this day as much as the wedding itself by being pampered. Spend time with family and friends and put your feet up.
Tomorrow, your wedding day, will be a very busy day from start to finish, so take this time to relax as much as possible.
Have Your Nails Done
One way to be pampered is to have your nails done, and is especially wonderful for the bride to spend some quality time with her maid/matron of honour and bridesmaids. If you plan to have a manicure and pedicure it is usually best to leave this to the last minute (day before) to avoid damaging them, especially your finger nails.
Although a professional manicure and pedicure will be done using the best possible products, accidents can happen. Always avoid using your hands for a good couple of hours after having your nails done to keep them looking perfect and ensuring they are 100% set and dry.
Massages
A fantastic way to unwind is by having a massage. Some day spas and the like offer a variety of wedding packs especially designed for brides and grooms.
These couples packs are a great way to be enjoy each others company together before your big day.
After all the stress of planning your wedding a massage may be exactly what you need to unwind before walking down the aisle.
Relax, Unwind & Enjoy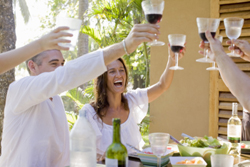 Before your wedding day you may like to spend some special time with your close friends and family. If you have already had your rehearsal dinner feel free to take this day as an opportunity to gather and enjoy the special time together.
Weddings are not just for the bride and groom, but the entire family, Relax, Unwind and Enjoy!