Set a Wedding Date
A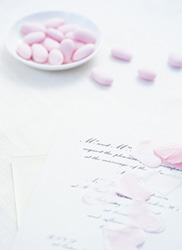 lthough you should take your time and not feel rushed into setting a wedding date, it is the starting point of planning a wedding. Having said that, I did a lot of my wedding planning without setting a date. I had personal reasons for doing this as I'm sure everyone has aspects in their life that change how long their engagement will be. Mine was simply not wanting to have more than I could handle on my plate at the one time. Knowing that we were in the process of buying and moving house meant that I did not want the two clashing with the wedding planning.
We set the date of our wedding only 4 months out, I did however already have the wedding dress, maid of honour dress, and most accessories purchased. There is a lot that you can't do until the date is set, that includes booking anything at all from the photographer to the venues. You can't send out save the dates, as you don't know the date. You can't make invitations, as you don't know the date or the venue for that matter. So despite being able to research and find ideas on wedding style, there are very few things you can purchase and book without setting a wedding date.
Pick a Wedding Date But Be Flexible
Setting a wedding date is no easy task and there are many things that need to be taken into consideration. It is important to ensure the date works for all involved in the bridal party, however you should always put you and your fh (future husband) first. You should do your best to avoid special events or birthdays, this is sometimes very difficult, but will make it much easier when planning as you will have everyone's full dedication. Perhaps you have always dreamt to have a particular supplier or venue for your wedding day, it may pay to give them a call and discuss their availability when deciding on a date.
Wedding Date
You might think that it is a wonderful idea to set your wedding on a long weekend or public holiday for those guests that are travelling. Yes, it will give your guests a few extra days off work and relieve the stress of travel for long distance guests. There are however some significant downsides to planning a wedding on a public holiday and cost is one of these.
You may find that suppliers will charge more for their services, venues will have at least a 10% surcharge to cover the higher level of wages on a public holiday and it can often cost more to travel. Therefore the guests you were trying to help by giving more time will possibly have to pay more to travel to your wedding. Also if your wedding coincides with public holidays, specifically Christmas or Easter families may be hesitant to attend your wedding as these times of year are often set aside for family holidays. School holidays are another time of year that should be avoided where possible, again families may take the opportunity for a vacation.
Wedding Month
There are peak and off peak times for weddings and this often is based around the seasons and weather. The Spring and Summer months of October, November, December, January, February and March are very popular times of the year for weddings to be held, generally as these times of year have the best climate. These peak times of year means that suppliers and venues can often be booked out years in advance.
Off peak or Winter weddings (April to September) are considered easier to book, however this may mean you can't wear that strapless wedding dress you had dreamed off. In recent times however, the Winter months are becoming much more popular for weddings.
Wedding Day
If working to a strict budget then you may like to consider having your wedding on a week day rather than the typical Saturday. Choosing a week day could possibly change the availability of your dream venue and perhaps reduce the costs involved. Also you will find that most close family and friends will often be more than happy to take an afternoon or morning off work to attend your wedding.
Perhaps a Sunday is an option (this is what we decided to do), again it may help to reduce the cost of some wedding items. However, please remember that not everywhere opens on a Sunday, it can make collecting suits, flowers and booking a hair and make-up artist difficult. In addition not all restaurants open Sundays, making it tricky when booking a reception venue.