Have Your Wedding Rehearsal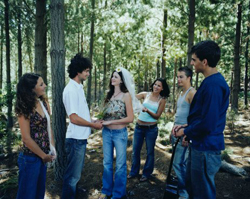 Before you walk down the aisle for the real thing it is always best to organise a wedding rehearsal.
A wedding rehearsal is a mock run through of the proceedings of the wedding day allowing everyone to practice their roles, knowing how to walk, where to stand and when their input in the ceremony is required.
Not only is a wedding rehearsal to ensure that both the bride and groom understand exactly what they have to say and do, but every other member of the bridal party and those involved in the wedding ceremony.
Wedding Rehearsal Location
Although helpful, it is not necessary to hold the rehearsal at the wedding ceremony venue, any room large enough will be fine.
If there are children involved in the wedding day such as a flower girl or page boy, it may be worth the effort to organise the wedding rehearsal at the wedding ceremony location.
By doing so the children can see and do everything exactly as it should be done on the day and there will be less chance of mistakes.
Rehearse the Processional, Ceremony and Recessional
The celebrant or minister will be present as part of the rehearsal and shall lead the way, guiding everyone through each stage of the wedding rehearsal including the processional, ceremony (vows etc) and recessional.
Every part of the rehearsal should be completed as though it was the wedding day. This includes playing the music so all the bridesmaids, flower girls, page boys, ring bearer and train bearers know their cue for both the professional and recessional.
As for the ceremony, the celebrant/minister will guide the bride and groom as they practice repeating their vows at the correct time. They will be told how they are to reply to each question, the correct wording of each answer and when to reply.
Other parts of the ceremony such as the wedding ring exchange are also practised so they look perfect on the big day.
Wedding Rehearsal Dinner
The event of a wedding rehearsal is often considered a formal part of the wedding plans and events, organised along with a formal dinner.
Often held very close, if not the day before the wedding, a wedding rehearsal is another opportunity for the key parties of the wedding day to have a final get together.
The proceedings are generally hosted by the parents of the groom, a dinner to relax and enjoy each others company follows the rehearsal.
Ensure All Legal Paperwork is Complete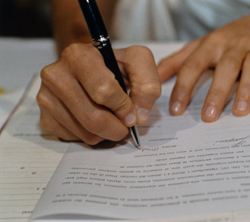 Most importantly, as part of the rehearsal your celebrant/minister will ensure that all paperwork is complete and confirm that the couple meet all standards to be married.
For further information on the paperwork required for a wedding ceremony to proceed, see the following in the Lissylane Wedding Check-list:
"Make appointment with minister/celebrant, complete "notice of intended marriage" and discuss the ceremony making all final decisions (vows, pre-marital counselling, etc)"