Organise Your Wedding Bonbonnieres
Wedding bonbonnieres are the little favours that you often find on the reception tables or are brought out with the wedding cake as a thank you for all your attending guests. It is like everything else wedding related, not necessary to have bonbonnieres at your reception however it is nice to have some sort of thank you for your wedding guests.
Often a take home slice of wedding cake can be thank you enough if you are on a tight budget. The necessity of bonbonnieres at a wedding is a much debated topic and is a personal choice as to what you have and do at your wedding.
If you do decide that they are right for your wedding, like anything else you should try to choose something that reflects both of your personalities and your wedding style. It may be as simple as giving you and your fiancée's favourite lollies in a cute little jar or something that is special to you such as a living bonbonniere, a plant or flower. Others may just be perfect for your wedding style such as tea cups or tea leaves at a high tea reception. There are so many wonderful options for bonbonnieres, some extravagant others simple.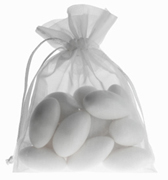 The bonbonniere (Greek spelling or known as "Koufeta") or bonboniere (Italian spelling) originated in France (from French word Bonbon) when a small box of sweets was given at special occasions.
This tradition spread across the world and typically consisted of an uneven number (generally 5) sugar coated almonds. The 5 almonds represent happiness, health, wealth, children and long life for the newly married couple. These days there are so many wonderful options and is not just limited to sugar covered almonds (although this is still done, and a fantastic budget option).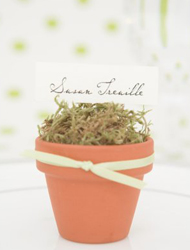 Bonbonnieres can also be used as place cards on your reception tables. So why not kill two birds with one stone and use the name tag on your wedding bonbonniere as the place card for your guests. To help you find the perfect wedding bonbonnieres for your wedding day have a look around online and at wedding magazines.
Some Wedding Bonbonniere (Bonbon) Suggestions:
Bonbonnieres that can be Used:
Ice bucket, wine glasses, shot glasses, champagne flutes, bath bombs, lottery tickets, bottle opener, umbrellas, chop sticks, tea cups, teapots, rice bowls, key chains, photo frames, coffee mugs, espresso cups, espresso spoons, cake serving set, cream and sugar serving set, sugar bowl and spoon, salt and pepper shakers, place card holders, wind chimes, mini oil lamps, napkin holders, candles.
Bonbonnieres you can Eat and Drink:
Watchmaker tins with candles, mason jars filled with anything, ice wine, maple sugar candies, maple syrup, candy apples, fudge, jams, jellies, flavoured tea leaves/bags, flavoured coffee, chocolates, jelly beans in dispensers, mini bottles of wine and cans of beer, sugar covered almonds, cookies, lollies, toffees, anything that might be your favourite.
Bonbonnieres you can DIY:
Family recipe book, wine, beer, flavoured vinegar, flavoured oils or pickled foods, mixed spices, sauces, cookies, candies, cupcakes, sun catchers, potpourri, soap, Christmas ornaments, book marks, trinket boxes, candles.
Bonbonnieres you can Personalise:
Fans, playing cards, calendars, key rings, photo frames, coasters, CD's, golf balls, golf tees, tennis balls, hockey bucks, address book, bottle of wine, note pads, pens and pencils, wine glasses, shot glasses, stubby holders, chocolate bars, any jars or tins, lollies, m&m's
Bonbonnieres that are Living:
Flower bulbs, seedlings, mini topiary trees or packets of flower seeds. Try teaming these with mini watering cans or decorated terracotta pots.
Other Wedding Thank You Gifts
There are also other thank you gifts that you might like to consider purchasing for those involved in the bridal party and that have helped you along the way. It is nice to buy your grooms men and bridesmaids a special thank you gift for being involved in your wedding day. It can be something they wear or use on the wedding day such as the grooms men's cuff-links or the bridesmaid's jewellery or just a keepsake of some sort.
There are many ideas and the thank you gift might be something that you customise for each individuals tastes. For example, a golf lover might be given some personalised wedding golf balls. Just think of what they might like as a treat, even vouchers for pampering or a meal out at a nice restaurant, no matter what you buy it is a gift of appreciation and they will treasure the thought.
As well as the bridesmaids and grooms men don'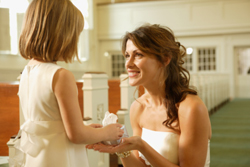 t forget the other members of the bridal party such as the flower girl and ring bearer/page boy if you have one. There are some fantastic little keepsakes for all involved, so have a hunt for some inspiration online and in magazines.
You may like to buy your parents a gift, especially if they are contributing financially to the wedding and have been of great support through the planning process. It is also a nice way to enter a new family and please the in-laws. It will not only show them your appreciation but mean the world to them to have something they can look back on in years to come.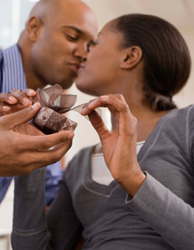 A gift for each other is a nice token on your wedding day. Many brides and grooms like to buy each other a special little something on their wedding day, either to open on the morning of or on the honeymoon. A beautiful card to say how much you love each other and to remember this very special day – Your Wedding Day.
If you have other family members of friends playing an important role in your wedding such as performing a reading, taking photos, playing one of the hymns or singing on your wedding day you may considering buying a small thank you gift. It does not have to be anything expensive, just a token of your gratitude for their involvement in your wedding day.
Think about all those that might have supported you along the way or done something special, every situation is different so try to step back from all the wedding planning for a moment and thank those that may have helped you along the way.