Search for a Wedding Cake Style and Design for your Wedding Day
Selecting the Size of the Wedding Cake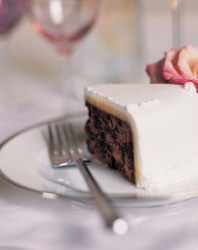 The wedding cake is the most important of the centre pieces at your reception. Not only are there many traditions surrounding the wedding cake but it is also a style statement for your wedding day. The size of the cake will often be selected based on the amount of guests at the wedding. The size pieces you intend to serve or have as take home slices will vary the size of the cake required as well.
A couple often keep the top tier of a wedding cake for themselves, this is then frozen and saved for their first anniversary (this will depend on the type of cake selected as to how long a cake can be kept frozen – keep this in mind if you decide to freeze your top tier).
Fake Wedding Cakes and Fake Tiers
There are a couple of options for wedding cakes, one of these is to include a fake layer. This can not only save on cost in most cases but also add to the size of the wedding cake for a small wedding, making it a grand statement by overall size, shape and style. Sometimes a couple my opt to have a completely fake wedding cake and have the slices prepared in advance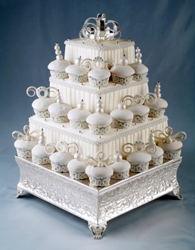 for guests. This not only saves time on the day but will drastically reduce the cost.
Cup Cake Wedding Cakes
While having a tiered wedding cake is traditional, the ever growing popularity of cup cakes for a wedding cake seems to be more common than ever. The cost of a cup cake tower is generally more affordable than a tiered wedding cake and can be the perfect option for a small wedding. They also look very dramatic when arranged together either on a stand or on a table together.
Generally a bride and groom will have a small cake made in addition to the wedding cup cakes so it can be used for the cutting of the cake tradition. Cup cakes for a wedding cake option are also much easier to serve individually and package for take home serves / bonbonnieres.
Selecting the Wedding Cake Style and Theme
There are many fantastic ways a cake or cup cakes can be decorated, however remember when selecting your wedding cake that much of the time and work involved and therefore the cost is in the icing and decoration. The more detailed the cakes are the higher the cost is more likely to be.
A wedding cake generally matches the wedding colours and theme, you will find there is a style to suit everyone's needs from elegant and floral to comical style cakes reflecting where the couple met or became engaged. Cake toppers are another way of showing the couples styles and personalising the wedding cake. All in all the wedding cake like any other part of the wedding should show the couples style.
Cake is not the only option for a "wedding cake" if you are wanting something a little more unique try other forms of deserts and pastries as an alternative. Let your mind wander, perhaps you both have a favourite desert that could be used as a substitute cake. Profiterole and lamington towers are just a couple ideas that have been used as an alternative for wedding cakes.
Flavours and Types of Cakes to Suit Every Wedding
As mentioned previously if you intend to freeze the top tier of your wedding cake for your first anniversary ensure you ask your cake maker for suggestions on the best type of cake for this. How long cake can be kept frozen will vary depending on the variety of cake selected.
When selecting the types of cakes for a tiered wedding cake be sure to ask the cake maker what is the best order for the tiers if selecting different types of cake for each. Some cakes are more dense than others and the last thing you want is the cake tiers sinking into each other from the weight of the layers.
In most cases selecting the flavours and types will be simply a matter of taste and the couples favourites. Other dietary requirements may also affect the decision, however there are generally alternative options for most common dietary restrictions – simply discuss them with the person making your wedding cake.
Decide on a Cake Maker or DIY
Selecting a cake maker / decorator may simply come down to price when working to a budget. When deciding on any wedding vendor it is best to view some of their previous work and see if the quality is what you expect for your big day. Search around locally and be sure to ask plenty of questions to find out everything you need to know.
We are also discussing something that is eaten and is chosen based on taste as well as design, so ask to try samples of the cake. Why buy a wedding cake that you do not even know you will like. Ensure you are perfectly happy with the taste of the sample as you will not be able to try your wedding cake before the wedding day.
If you find a cake maker that you are confident with, you do not have to limit yourself to their catalogue of cakes. If you find pictures of a design you like ask if they can make it based on the photograph. A good cake maker / decorator should be able to custom design your wedding cake to any aspect of your wedding, perhaps match to the detail on your wedding dress. Even mix and match different techniques you have seen on a variety of wedding cakes, the decorator is their to guide you and offer advice, so take it!
Just because it is a wedding cake does not mean you should rule out the DIY option, or perhaps use a talented and confident friend or family member. To DIY is a perfectly viable option especially for simple designs, cup cakes or alternatives and is something that brides on a budget often consider.
Any cake that can be made in advance and frozen prior to the wedding day is the ideal DIY wedding cake as you do not have the stress on the day. You will also find yourself saving a great deal of money by making the wedding cake yourself. If you think this is the option for you have a few practice runs until you are 100% satisfied.