Search for a Ceremony Venue that Suits Your Needs
Finding the right venue for your wedding ceremony is often a difficult job. Without repeating myself and doubling up on topic information, there are different styles of weddings (that we discuss later) and this will in most cases affect the ceremony location. Having said that, it doesn't mean that you have to have a religious ceremony in a church or chapel. Perhaps you have already decided that you definitely want an outdoor wedding, then it is simply a case of narrowing it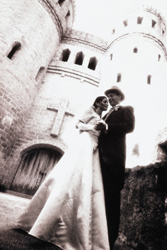 down to a location.
When choosing a location for your ceremony think about if there is anywhere special for both you and your fiancée, maybe a park that you used to visit when dating or the location in which the big question was popped, don't forget your own backyard or home if you are on a budget.
There are some points to consider when choosing a venue for your ceremony which we will also cover, so that you can both make an informed decision and locate the perfect venue for your wedding. There are so many options for venues, I'm sure you will be surprised.
Indoor Wedding Ceremony Venues
When we think of indoor weddings the first that come to mind are either in a church or a chapel. From small and intimate weddings to a massive gathering there are hundreds of churches to choose from. If you decide that a church is the ideal venue for your wedding it is more than likely you also plan to have a religious wedding. Depending on your religion will determine the church for your ceremony. Perhaps you have a local church that you attended as a child or that family before you have been wed at. This is perhaps one of the easier wedding venues to choose.
There are different forms of payment for the use of a church and depending if you are a regular member of the church, this may be a determining factor for use of the venue. Most churches will accept a donation for the use of the venue. There are of course non-denominal chapels for those of you that want an indoor wedding with less focus on the religious aspect. These chapels are often the perfect option for couples with different denominations.
Church and chapels are not the only indoor venues for a ceremony, some other common indoor weddings can be held in historical houses or buildings,
ballrooms, dance studios, theatres, hotels, halls and wineries. For more unique or themed weddings, indoor locations can include a bowling alley, games arcade, old movie theatre, art gallery, a little shop of some sort (cupcake or book, etc), barns and farmhouses, old railway stations and museums.
For a quirky twist jails (gaols) or haunted houses are a unique indoor option. A twist on your typical chapel is the floating chapel moored at Mariner's Cove Marina on the Gold Coast and can be relocated to any navigable location on the Broadwater.
If you have your heart set on an outdoor wedding it might be a good idea to consider one of the above for a wet weather plan.
Outdoor Wedding Ceremony Venues
There are so many options for outdoor weddings, they give a couple the freedom to do what they want and have the space they need. Generally speaking, outdoor areas are very open and therefore suits everybody, allowing as many or as few guests as you like. Having said that, some outdoor locations may not always be possible if there are a lot of people.
If you plan for a small wedding with just yourselves, bridal party and parents then pretty much anything is possible. Simple weddings, with no chairs or decorations and just the outdoors as a magical backdrop works perfectly and can be held anywhere, any-time. Weddings on mountain tops at sunrise or sunset, national parks surrounded by rain forest and waterfalls, local parks or secluded beaches with the sound of waves hitting the rocks, let your imagination run wild. These weddings are suited to couples that are happy to be surrounded just by the beauty of nature and their vows witnessed by a close group of family and friends.
Popular outdoor weddings include beaches and gardens, simply contact your local council for further information on holding your wedding at a local park or beach. Vineyards are another extremely popular location for weddings and are a fantastic option as they generally have an attached restaurant or wineries for the reception to follow. This can also act as a back up in case of poor weather.
A golf course can make a different backdrop and again have available areas for the reception to follow, some even have their own chapel for a fantastic back up. Or perhaps a hotel roof top, again a great option for having the ceremony and reception in one location.
For a twist on an outdoor wedding, Japanese Tea Gardens or botanical gardens often have outdoor rooms that can be used for weddings. Gazebos also look lovely with their garden surrounding and in some areas you can find
a butterfly avery for something a little different.
Islands, marinas, waterfronts, resorts, boats and paddle steamers are further options for a beach or ocean-front wedding.
For something different perhaps a quirky wedding ceremony at a zoo or a theme park is up your alley. Dreamworld (one of my local theme parks on the gold coast) cater for weddings and make for a truly unique experience. Graveyards scream unique for those that perhaps want an unusual themed wedding.
The Elements on Your Wedding Day
All outdoor weddings should have a backup option, a "wet weather plan" as you just don't know what the weather will be like on your wedding day. Also consider some of the other elements that may affect your plans for an outdoor ceremony. Flowers may wilt if it is extremely hot, colours or ink might run if an unexpected shower comes over.
Hot Sun during Your Wedding Ceremony
Outdoor weddings, especially in Australia can get extremely hot under the sun. Your guests may have to squint to watch your ceremony. Beads of sweat may start to drip from their foreheads, not to mention you and your fiancée and bridal party standing in formal dresses and suits.
Sweat can affect the bride and bridesmaids make-up so ensure you have a compact for touch ups to decrease the shine in photographs. Direct, over head sun from about 11 am to 3 pm can also affect the lighting for photographs, so try to provide some shade for the photo session, and for that matter your guests during the ceremony will be appreciative of some shade.
Windy Weather on Your Wedding Day
Do your best to avoid windy pockets in outdoor locations, otherwise you might find your beautiful hair styles, dresses, veil and flowers blown away and all the hard work of the stylists undone.
Rainy Wedding Days
I think I have said it a few times now throughout this article, but I can not stress enough how important it is to have a back up plan for wet weather. Speak with a nearby indoor venue about making a booking as a back up in case of rain. You may very likely have to pay a full booking price as the venue will not be able to take another booking regardless of you using the location on the day or not.
As you read through the above options, you may have noticed I mentioned quite a few locations that have an indoor and outdoor option. If you don't want the cost of paying for two venues perhaps this could be the ideal location for you. Consider any precaution you take as insurance for your wedding day.
Tents and marquees, large umbrellas and undercover gazebos can also be options depending on the size of your wedding.