Finding the Perfect Reception Venue for Your Wedding
In most cases all the venues that we suggested for the wedding ceremony are perfectly suited to also be reception venues. So rather than discussing options for reception venue locations and doubling up on information already covered, I felt it better to discuss the questions you should be asking both yourselves and the venue manager once you have narrowed down your options.
Finding the perfect reception venue is a difficult task, however in most cases you will be able to tell the suitability of a venue just by looking at it. You will most certainly be able to tell if the venue is large enough to cater for the amount of guests you have on your preliminary guest list just by looking at it (remember we wrote a guest list for this very reason, to give you a rough idea of numbers when trying to find a venue).
The other easy way to narrow down the suitability of a venue location is by determining if it suits your budget. You will only be able to work this out by asking a lot of questions to the venue manager. What may seem to be out of your budget at first glance can sometimes not be true depending on what the reception package includes.
Décor and Design of Reception Venues
When deciding on a venue take a look around at the décor and design of the room and ask yourself, "Does it suit my wedding style?" If at first glance the venue does not suit your wedding style and décor needs, you may have to spend quite a lot of money on extra decorations to meet your requirement. This will have to be taken into consideration when reviewing if the venue fits your budget.
Any extra that needs to be spent on top of the hire costs of a venue may mean that it is not suitable for your needs and budget. Also check limitations to bringing your own decorations, especially if having your reception in a public venue or perhaps a private club. When discussing wedding packages with the reception venue find out exactly what is included as far as the décor is concerned. You need to know exactly what is on offer and if it is what you had in mind. There is no point paying for something that doesn't suit your wedding style.
Find out if the package includes flowers and centre pieces in the hire cost, as this may save you time and money, however some venues my include decorating fees, so weigh up if it really is saving you money. This may seem trivial but "Do you like the venues chairs?" if you don't, you may have to hire chair covers and sashes which is another additional cost, or perhaps they are already included in the package (hidden cost).
Food and Drinks at Your Wedding Reception
One of the main parts of the reception is the food and drink to be served on the night. Find out if the venue has an in-house catering service and what is on the menu. Most venues will have a few different options to select from, so make sure the food suits your needs. If possible, taste test the food to see that you like the meals, quantity and quality of presentation.
There are also different styles of catering such as buffet, a la carte, etc; investigate what is available and what suits your wedding style. If for some reason you don't find the catering suitable, "What are your options for finding outside catering?" Often it is best and cheaper to use the in-house catering but you may find that the food just isn't what you want for your wedding reception, however the venue is perfect. Find out if you can source your own outside catering service and any limitations to doing so.
"Does the venue provide a discounted meal rate for children and service providers?" If you are having children at your wedding, you should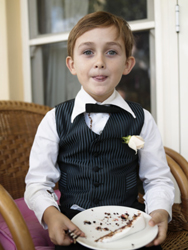 find out the pricing available for a child portion. You do not want to be paying the same for a 7 year old as you do for an adult guest. Likewise for providing a meal for your service providers, most photographers if staying for the entire reception will require you to provide them with a meal. This meal does not have to be elaborate or the same as the wedding guests and therefore your venue should be able to provide you with a budget meal.
"Are they a fully licensed venue?" Most venues and restaurants these days will be fully licensed to serve liquor, however it is worth checking. Also discuss options for the serving of alcohol on a budget, various bar tabs and the best ways to keep your guests drinking habits under control.
Check with the venue to see if they allow you to supply your own alcohol, despite the standard corkage fee, it is often more affordable to bring your own to be served. Or perhaps you are not serving alcohol at your wedding, find out the alternative drinks available for all ages; the availability of different sparkling grape juice (non alcoholic drink for toasting), soft drink, juice, water, tea and coffee.
Space and Layout on the Reception Venue
Now as mentioned in the intro, you will in most cases be able to narrow down your venue options just by looking at the room, seeing if there is enough space for your guests to sit comfortably. That may be true, however you do need to consider additional space not just for the guests but for the entertainment, master of ceremonies, DJ or just dancing. Whatever it is that you plan for your reception you need to make sure the venue has plenty of space and room to move.
Discuss your options for table layout as well. Depending on your seating arrangement ideas, you may be able to make more space by simply altering the layout and room design. Locating the tables in the best possible position may give you more space for other important things such as your speeches, cake cutting and entertainment.
"Is there space for the bride and groom to relax and change clothing?" Often the bride will change from her wedding dress to another gown for the reception, something a little more relaxing and laid back to enjoy the reception in. Find out if there is a separate room for the bride and groom to step away from the guests to unwind and enjoy a few moments together on their special day.
Staff and Co-ordinator on Your Wedding Day
In most large venues you will be assigned a co-ordinator to discuss with you and your fiancée all your needs and requirements for your wedding reception. They will be the person to make things happen and keep you both up to date and informed of what is and isn't possible. There may be certain ideas that you will have to compromise as a venue might have certain rules and policies they have to follow. The co-ordinator will troubleshoot these problems with you and supervise all your wedding plans.
When you investigate and visit the venue for the first time, see if it is possible to meet the co-ordinator that will be handling your wedding (if you decide to have your reception at the venue). It is important that you connect with the co-ordinator and share a similar view on the wedding style. If you have completely contradicting views it might not work to have this person as your co-ordinator.
You should however listen to the co-ordinator's suggestions, they will have seen many weddings set up and take place at the venue and will often know what works best in the space available. Having said that, if you feel as though you can not work with this person see what other options are available, the venue may be able to assign a different staff member for your wedding. Meet the other staff and where possible see them in action. It is important to make sure they act in the most professional manner and you are happy with how they will perform at your wedding reception.
Venue Facilities for Your Wedding Reception
"Does the venue have all the facilities you require for your wedding reception?" Make sure that the general facilities such as bathroom, parking, coat check, children and disabled facilities (where required) are satisfactory.
What extra facilities you require will depend on what you plan to have as part of your wedding reception, some of these might include a photo slide show, toasts/speeches, a band or wedding singer, music/entertainment, and recorded messages from non-attending family members or guests. If you need to hire equipment that isn't provided by the venue, these are additional costs that should be taken into consideration when deciding if the venue meets your budget.
Payment Options to Suit Your Wedding Budget
When you meet with the venue find out your payment options and what deposit they require. It is pretty much a given that all wedding reception venues will require a holding deposit to guarantee no double bookings and to secure your wedding date, this deposit may vary depending on the venue.
Find out about your payment options, if you have the ability to make payments towards the reception over a period of time rather than in one lump sum.
"Are there any hidden costs?" Ensure that you read the contract carefully and ask all the questions you can think of to find out what is and isn't included as standard. You will most likely be charged for every last service provided by the venue, so ask for an itemised quotation before committing to any venue no matter how perfect it may seem on the surface.
"What are the overtime charges?" most venues will expect you out by a certain time, ensure to ask about overtime charges. Before paying a deposit check the cancellation policy for the venue, if you change your mind or have to cancel for any reason find out how much of your deposit you will lose.