Search for Wedding Flowers or Alternatives for the Bridal Party
When deciding on bouquets for you and your bridal party try to think outside the square. We all know that there are fresh flowers available for a bouquet. If that is what you like then really all you need to do is find a florist and get some quotes. All florists will be able to advise on what flowers are in season at the time of your wedding and the shape of bouquets available. Cost of flowers will of course change based on these two things, therefore the size of your bridal party can impact on your final decision.
Remember that not everyone has to carry a full size bouquet; wrist corsages and pomanders are great options to keep costs down. If you do plan to have real flowers at your wedding they will have to be collected close to your wedding day, and kept looking fresh until the ceremony. If you don't want this added stress on your wedding day perhaps you might like a flower bouquet alternative. There are not only faux flower options but other alternatives for flowers as well, so investigate all the options and find the one that suits your wedding style best.
The Lissylane Pinterest has some wedding bouquets for Inspiration, why not take a look to get some ideas for your wedding day!
Alternative Wedding Bouquets to Real Flower Options
It seems that real flowers aren't for everyone, and I often find brides searching for an alternative. Either they just find flowers too girly or want to mix things up and be different. Whatever the case might be there are some options for both the bride and bridesmaids instead of real flowers.
The first that springs to mind is of course silk flowers, these are considered one of the next best things to real flowers. The most vital part of using silk flowers is making sure they are of a high quality and look as close to the real thing as possible.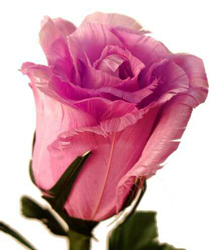 If you want the look of a flower but a little more quirky and unusual, then perhaps consider flowers made from a different type of material. The felt and button flower bouquet option is perfect and luckily also provides other alternatives such as wrist corsages, brooches and boutonnieres for the bridal party as well. Other fabrics, even leather can also be used to create flowers and form a bouquet, plain and patterned fabrics with the addition of other special extras such as lace for example.
Feather flowers are also something interesting, shaped like flowers yet made from feathers (not to be confused with normal feathers being used as a bouquet on their own). How about a paper flower bouquet made using the technique of origami as an option, this would fit perfectly with an oriental themed wedding and adds a unique flair. Wrapping paper, news paper, crepe paper, or any type of paper for that matter can also be used without using origami as the method to form the flower.
Non-flower Wedding Bouquet Options for Your Wedding
What about a non-flower bouquet! Well get ready to let your mind wander as there are more ideas than I'm sure you first imagined. Let's start with the options that you probably have thought of such as a hand fan (paper, lace, fabric, feather) and parasols (paper, lace, fabric) which are becoming a very popular option and look fantastic in photos. The more research you do, the more you seem to see crystal bouquets and feather options for brides and bridesmaids. Feathers are quite versatile with plenty of different styles available to combine or use on their own from emu, goose, ostrich, marabou, peacock, and the list goes on.
Button stem flower bouquets are an interesting look for an alternative bouquet and honestly who doesn't love buttons! With a massive range of colours and style buttons available these button bouquets really are a great option for a different twist at your wedding. A practical option is carrying a wedding dilly bag or clutch down the aisle that matches your wedding gown. Or how about an edible bouquet!!! You heard me, if you get a little hungry on your way down the aisle how about have a nibble of your lolly wedding bouquet.
Something that you may not have considered and a great idea for the DIYers out there is a Christmas bauble (ornament) wedding bouquet. Think of the fantastic colours and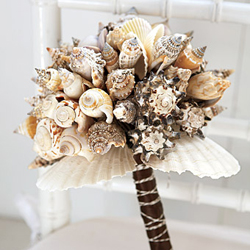 styles available for your Christmas tree turned into a bouquet. With the addition of some tulle and crystal or bead stems (let your imagination run wild) or simply just on their own to form a wedding bouquet that will certainly be unique. Something that I had never seen before was a seashell wedding bouquet but wow what an option for a beach wedding; it sure would impress your guests and tie in with your wedding theme. Perhaps another DIY option for those creative brides.
Turn your wedding day into a real party atmosphere by carrying a bouquet of balloons down the aisle. Many wedding ceremonies have the lighting of candles take place, how about the bride and bridesmaids carry the candles for the unity ceremony instead of a bouquet. Something that is similar to this is the use of lanterns as an alternative bouquet, there are many styles available and this might just be what suits your wedding style.
Combine Various Alternatives for a Unique Wedding Bouquet
I would also like to suggest that you might like to not just pick one of these options, but perhaps combine a couple of ideas. For example, brides  might consider combining the button stem flowers to a felt and button flower bouquet or any number of other materials such as lace and tulle that suit your wedding style. Likewise, try mixing feathers and crystal stems into a real wedding flower bouquet, or not just have flowers but add some berries, foliage or even vanilla bean sticks for a unique twist on a traditional favourite! A wedding is about who you are as a couple and should reflect your personalities. However you should never just dismiss alternatives for real flowers without giving them a second thought, you might just surprise yourself and fall in love with an alternative bouquet.