Search for a Photographer and Videographer for Your Wedding Day
Finding the right photographer and/or videographer that suits your style can be difficult. You should do plenty of research when looking for a photographer for your wedding by looking at plenty of their work and from a variety of companies. Make sure you ask to see an entire weddings photos, what they put on their website will of course be the best of the best and won't give a true indication of what their photographs are like for an entire shoot.
Like finding any professional for your big day ask questions and know what you are paying for. Photographers and Videographers will have different packages available and offer their services for varied amounts of time. Make sure you are not paying for things you don't want, wedding packages of any type can often cause this, as they make you feel like you are getting the most for your dollar. This is not the case if you didn't want or need these services in the first place!
You may also like to hire a videographer for the day in conjunction with your photographer. Some companies offer both services which may make it easier to find the right person to film your wedding day. Again do your research and take a look at their work to see if it is the style you had in mind. It is nice to have your wedding day filmed so you can both watch it back after the big day. Your wedding day will fly by and you can often miss little details, so having a tape of the event along with the wedding photos can be a wonderful memento.
Wedding Photographer Styles
There are generally three different wedding photographer styles that you should consider what suits you and your fiancée best. These are wedding photojournalism, traditional wedding photography, and illustrative wedding photography. I am by no means a photography expert, I've done some research to add a brief description of the different styles in simple to understand terms.
Wedding Photojournalism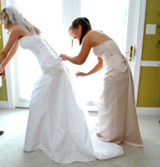 Wedding Photojournalism is said to "tell a story" of the wedding day. It simply is a series of candid photographs that cover the events of the day and narrate the wedding in the form of pictures. A picture says a thousand words, and in this case that is the basis of photojournalism. This style can be unpredictable and often lacks the traditional, planned and portrait style photos that some expect in a wedding album.
It is quite a contemporary yet risky style of photography and puts the trust of getting the perfect images of your big day in the hands of the photographer. There is no set procedure for the photos and relies on the photojournalist's response to the unfolding of events on your wedding day. The idea of candid shots is in theory wonderful, however can be disappointing if there are photo opportunities that may get missed.
Traditional Wedding Photography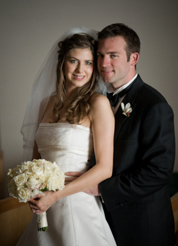 This style consists of "set up" and preplanned wedding photographs. Traditional wedding photos are posed, they often see a photographer following a short list of desired shots in a routine manner. This style can be time consuming and quite predictable, however overall visually pleasing. It does allow the photographer to ensure the lighting is correct and everyone is looking their best. It is a formal style of photos and has a timeless appeal. It is however not for everyone, and some couples prefer a more candid and contemporary style.
Illustrative Wedding Photography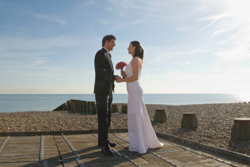 This style is what some might say is the happy medium between wedding photojournalism and traditional photography. Illustrative wedding photography is more guided than photojournalism however has a creative flair and interaction between subjects that traditional wedding photography lacks.
This style places the subjects in interesting, unique and creative surroundings and has a creative edge. The result is more spontaneous than traditional wedding photography but not completely candid like photojournalism. Illustrative wedding photography brings out the artistic and compositional skills rather than just shooting a series of events.