Organising the Perfect Wedding Rings
"The wedding ring is a symbol of eternity. It is an outward sign of an inward and spiritual bond which unites two hearts in endless love. And is given as a token of your love and of your deep desire to be forever united in heart and soul." 
Selecting the perfect wedding rings may sound fairly straight forward, but like anything wedding related you have many options! Most of the options you will have when selecting your wedding bands will come down to personal preference.
You should discuss in detail with your fiancée what you are looking for in a wedding ring and what means the most to you; they are after all a symbol of your everlasting love.
Both wedding rings do not necessarily have to match but usually it is nice for there to be some sort of common link between the two. This can be in the way of an inscription, the type of stones used or the chosen metal for the wedding bands. Having said this you will wear your wedding rings for the rest of your life and you need to be 100% happy with the design and style of them both.
The Brides Wedding Ring
The brides wedding ring will generally match her engagement ring and therefore can prove quite difficult to find the perfect band. Depending on your personal taste in jewellery the bride may opt for a classic and plain band so as to not distract from the engagement ring or perhaps a band encrusted with stones to match. As a guide, select the same type of metal for both her wedding and engagement rings. There are a couple of technical reasons for this but aesthetically speaking, this is the first step to ensuring the rings complement each other.
If the bride intends to have diamonds as a part of her wedding band ensure they do not outshine or detract from the feature of the engagement ring. Furthermore the width of the band should be similar to the width of the engagement ring and fit snug together. A jeweller can advice what width band (also taking into consideration quality) will best compliment your engagement ring.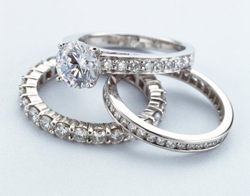 Perhaps your engagement ring was bought as part of a set; this makes life very easy. If it wasn't, then perhaps consider having a ring made by a jeweller to suit your engagement ring and be of unique design.
It is of course possible to buy a ring straight from a jewellery store but remember this will often limit your choices depending on your existing engagement ring. Generally a bride will only buy a wedding band direct from a jewellery store (as opposed to having one made) if searching for a very classical and simple designed wedding band. If your engagement ring is a unique shape your only option my be to have one made.
The Grooms Wedding Ring
Since it is not necessary to match the grooms wedding ring to an engagement ring like it is for the bride it is much easier to find the perfect ring.
The main thing to consider when looking for a men's wedding ring is the thickness of the band. If the ring is too thin there is a high risk the ring will become damaged and break easily, especially if the groom is an outdoors man or uses his hands for manual tasks on a frequent basis.
Also consider the metal for the ring as some are far more durable than others, for example titanium and tungsten carbide. Both of these metals are growing more and more popular for their durability and use for men's wedding rings.
Personalising Your Wedding Rings
Common ways to personalise your wedding rings is either by an engraving or inscription inside the rings. This can be something special that you both share or simply the "brides name" loves "grooms name" and vice versa on each others wedding bands.
Engraving the wedding rings mostly will depend on the width of the bands, as it is not always possible on a thin wedding band.
Coloured stones and gems are another way of personalising your wedding band and having it stand out from other rings you may find in a jewellery store.
Likewise the
amount of stones can represent something special in your lives such as the years you have been together before being wed.
Your religion or other beliefs may also influence your choice in wedding rings, for example Celtic designs are popular for an alternate wedding ring.
Or design your own Celtic rings or similar and have them made by a jeweller; not only are they one of a kind but personalised and special for the both of you to represent your love.
Ring Settings and The Four C's
It may sound like a title for a romantic novel but the "Ring Settings and the Four C's of Jewellery" are very important aspects for selecting not only wedding rings but any rings for that matter.
Ring settings generally refer to how the diamonds or stones sit in a ring.
The four c's are the international language of diamonds; carat weight, colour, clarity and cut.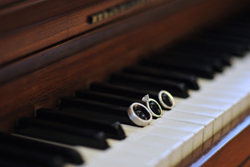 I am by no means an expert on rings and am not a professional jeweller, however I do advice all couples to research thoroughly.
You should always source various quotations and ensure you are buying from a reputable retailer when purchasing your wedding rings.
Once you have the selected your perfect wedding rings it is advisable to have them appraised and insured to be on the safe side – accidents do happen.