Book Your Hair & Make Up Trial
Before your big day it is important to make sure you are 100% happy with the way your hair and make up will be done. This means it is wise to have at least one trial run prior to the wedding day.
You should book your first beauty trial for hair and make up in this 4 weeks out period of your wedding planning.
We discussed much of the ins and outs of hair and make up earlier on in the Wedding Style section of the Lissylane Wedding Check-list.
At this point it may be best if you have not finalised a hair style to have a read back over this article and its suggestions.
More Than One Trial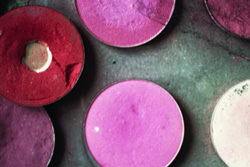 All going according to plan, you may be happy with your first hair and make up trial and with your appearance.
If not you should discuss other options with your hair and make up artists and try to pin point why it isn't exactly what you had imagined. This may require you to pay for another hair/make up trial to test other styles and colour pallets.
Just remember if this assures you will be looking your best on your wedding day then it is truly worth the extra expense.
A Second Opinion
Having a close friend, a bridesmaid, the maid of honour or the mother of the bride present while having your hair and make up trial done is always a good idea.
Although the intentions of your selected hair and make up artist should always be to make sure you are looking your best, have an outsider that is going to share with you their honest opinion is preferable.
A second opinion, especially when you are feeling uncertain is best to set your mind at ease.
The Final Look 
If you do not usually wear a great deal of make up on an everyday basis, it may take you a little while to adjust to how you look. It can be overwhelming and you may not feel like yourself.
Just remember make-up is necessary for the best possible professional wedding photos. It helps to ensure an even skin tone and complexion on camera and takes away unwanted shine for photography purposes.
Take plenty of photos when you have had your trial completed so you can look back on them and ensure you are happy with your appearance.
Where possible try your wedding dress on to get a better idea of the overall look you will achieve on your wedding day.