Arrange all Pre Wedding Events for the Lead up to Your Wedding Day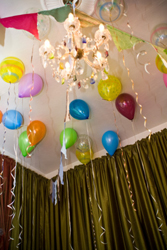 In the lead up to your wedding day there are a few "pre wedding" events that you may chose to hold. Some of these events give you the opportunity to include those that are close and dear to you however are not a part of the bridal party.
It is also an opportunity for the special people in your life to throw you a party to celebrate you getting married.
Their are a couple variations of some of the events but generally they are for the same purpose. All of the events will be explained in detail to relieve all brides and grooms of any confusion.
Groom's Buck's (Stag) Night
The main pre wedding event held for the groom is a bachelor party (US, Canada, South Africa). It is generally referred to as a Buck's Night here in Australia or a Stag Night for the UK, Canadian, Irish and New Zealand.
No matter what you call it, this is said to be the groom's last night out as a bachelor therefore a buck's night is typically held the night before the wedding day. This trend is slowly becoming less popular with the Buck's Night being held either the week before or within the month before the wedding.
A buck's night is known to have some pranks and crazy activities occur with the groom the centre of attention. Playing it safe and having the buck's night at least a week out from the wedding is highly recommended, especially if drinking and alcohol is involved. The last thing you want to do is not be feeling your best on your wedding day due to a big night out.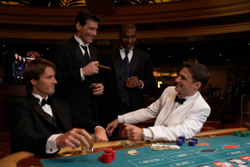 Traditionally a buck's night is a male only event that is a party thrown by the grooms best man and grooms men. These bachelor parties can be wild and outrageous to simply a night with the grooms close friends and usually father of the groom and soon to be father in-law. Usually the party's events are kept secret from the groom.
Times have changed however, and gone of the day where the events simply included a big night out at the pubs and strip clubs.
Here are some great alternatives for having a fun filled buck's:
Why not make a day or weekend of it? A buck's doesn't have to just be a night out – Do all the grooms favourite things!
Go on a fishing charter or camping
Have a round of paint ball / skirmish
Clay Target Shooting
Live it up in luxury on a harbour cruise
Rev it up on the track with go karting
Or toys for the big boys with a day of rally driving
Fun on wheels with quad bikes or dirt biking
Four!!! Golf anyone or how about a round of putt putt / mini golf
Thrill Seeker? Take your chances with sky diving or bungee
Life's an adventure with rock climbing
Four-wheel driving adventures
Big kids have the most fun – hire sumo suits, bucking bulls, arcade games and lots more
Ski trips or fun in the sun at the beach with surfing and water sports (water ski, kite surfing, etc)
A beach party with beach cricket, games and a BBQ
Strike bowling or laser skirmish
Like sports? Have a day at the cricket, footy, drift/car/drag racing or whatever takes the grooms fancy
Helicopter and joy flights to take in the scenery
Tour a local breweries
Water parks and amusement parks
Hire a hotel room, organise some food and have some fun
Or for those that want a night out on the town!
Try your luck with Lady Luck and hit the casino
Pa pa pa poker face?
Not that anyone needs to be reminded, how about strippers?
Turn your home into a casino – hire a roulette table and dealer for the night
Take in some great food and some cold drinks at a laid back restaurant
Pub crawl if that's your thing
Hit the clubs and dance up a storm or be danced for
Themed party – pick a decade, retro, Hollywood, gangster, superheroes/villains, Halloween, casino, etc
Gaming night – console and PC fun
Rev head? Night at the drag strip or a ride on a Harley
Bride's Hen's (Stagette) Night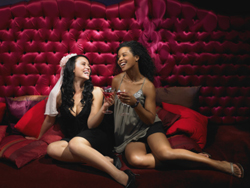 A bride can have a couple of events leading up to the wedding day that serve different purposes, but following on from the groom's buck's night we will discuss the bride's hen's night. A bachelorette party as it is termed in the United States or more commonly referred to as a hen party, hen do or hen's night in Australia, the UK and Ireland or a Stagette party used in Canada is the female version of a buck's.
Similar to a males buck's night a hen's night is a chance for the bride's closest female friends to honour her getting married and enjoy her last night as a single woman before her wedding day. Again a hen's night can be held the day before the wedding, a week before or any time leading up to the wedding (generally the month before the wedding – although can be earlier if need be). 
Traditionally a hen's night is a female only event that is a party thrown by the bride's maid/matron of honour and bridesmaids. These bachelorette parties in history have been quite tame however in more recent years have become culturally tied to gender equality and are an expression of social and sexual freedom.
They can be wild and outrageous to simply a night with the brides close friends and usually mother of the bride and sometimes soon to be mother in-law.
Discussing the planed event with the bride is advisable for the host of the party and it should be remembered that everyone is different.
The host should never make the bride feel uncomfortable by the nights events, after all a hen's night is held in honour of the bride to be. Male strippers are not every-one's idea of a good time and the invited guests should be considered especially if the mother of the bride and soon to be mother in-law are attending the party.
Here are some great alternatives for having a fun filled hen's:
Why not make a day or weekend of it? A hen's night doesn't have to just be a night out on the town.
Head to a day spa for some luxury pampering with massages and facials
or why not have the massage come to you with a mobile massage service
Manicures and pedicures might be just what's in order to kick start the hen's
Long soaks in a spa or a refreshing dip in a pool
Hire a hotel room for some weekend fun
A weekend away at a health retreat
Life drawing classes for the artistic bride
Tarot readings
Pole dancing, belly dancing or dance class parties
In house lingerie, jewellery or Tupperware parties
Professional photo shoots of the bride and her hens
Cheese and wineries tours to tempt the taste buds
High tea in style & luxury or a cupcake party and afternoon tea at home
Hit the shops for some retail therapy
Lunch and barefoot bowls party
Harbour cruise in style
Hens treasure hunts
Cocktail or Milkshake party (learn to make different drinks and enjoy your masterpieces)
Host a murder dinner party
Have a daring and wild bride on your hands – How about any of the suggestions from the Buck's Night Alternative Suggestions List above?
Or for those that want a night out on the town!
For the not so lady like – bogan bingo – a wild night out
Hit the casino for some gambling fun
Dinner and wine for some fine dining at a restaurant
Movie and games night with all of the brides favourite chick flicks
Hit the clubs and dance up a storm
Go to a show or a Cabrera restaurant
Themed party – pick a decade, retro, fluro, Hollywood, 1920's flappers, gangster, superheroes/villains, Halloween, casino, etc
Little Black Dress night on the town
Glam cocktail party with male topless waiters or even strippers
Dinner party and desert with all the trimmings
Bridal Shower and Kitchen Tea Party 
A bridal shower or kitchen tea are very similar and usually just a slightly different term for the same style of party. Both parties are a gathering of ladies that "shower" the bride with gifts hence the name "Bridal Shower."
Specifically a Kitchen Tea Party is held specifically as a gift giving party for the bride to receive small and useful items for her kitchen.
The bridal shower or kitchen tea are generally coordinated by the bridesmaids and hosted by the Maid/Matron of Honour.
However these types of parties are a fantastic opportunity to involve the mother of the bride and have her play a role in the pre wedding events. This is especially common if the bridesmaids are throwing a hen's night for the bride to be.
Party Etiquette
Something that is frequently brought up amongst brides to be is the etiquette question of having both a bridal shower/kitchen tea and a hen's night – is it too much? My personal response to this is no. The reason behind this is due to the two parties being held to include different groups of people.
Where a hen's night is generally just a bride's closest and dearest girlfriends a bridal shower or kitchen tea can include all female family, relatives, all groups of friends and work colleagues. A bridal shower is a great opportunity to invite those that you may not have been able to invite to the wedding due to guest number constraints and involve them in your big day.
The other reason that I feel it is fine to have both is that only one of these events is an occasion where as a guest you are asked to bring a gift. A hen's night is simply held to have a good time and honour the bride to be – a gift is not required.
If an invited guest can not attend due to the expense of the events then that is simply up to them and you should not be offended.
What to Include at a Bridal Shower or Kitchen Tea
A bridal shower generally includes an afternoon of food, fun and games.
It is an opportunity to enjoy some time together with your female friends and family and have a nice, relaxing afternoon prior to your wedding day. You should take this opportunity to unwind and be honoured by your guests.
PARTY FOOD
The food at a bridal shower or kitchen tea will depend entirely on the taste buds of the bride however it is generally catered for like an afternoon tea event with a selection of sweets and savoury food on offer.
Finger food is your best bet to make playing games and enjoying yourself easy, keeping hands free for the important things.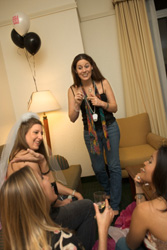 Mix it up with a selection of sandwiches, cakes & slices, fresh fruit and some hot appetisers/canapés. Just make sure they are easy to eat and everyone is catered for with special dietary requirements.
FUN & GAMES
There are a range of fun, easy to make games that can be included at a bridal shower. The hosts of the party (bridesmaids and maid/matron of honour) are responsible for preparing and organising the games.
Games also allow all the guests to get to know one another and help to break the ice at a party.
Here are a couple ideas with a brief description of some you might like to try:
How Well Do You Know The Bride? – a written questionnaire about the bride the guests try to answer the best they can. Once everyone is done the bride corrects them to see who got the most answers correct. These completed questionnaires can be a great keepsake for the bride afterwards.
What's My Word? – before the shower make a list of wedding related word name tags for each guest to wear during the party. Each guest can not say the word on their tag, if someone hears a guest say the word they take their tag. The person at the end of the shower with the most tags wins.
The Tasting Game – a great game for a kitchen tea. Using bowls filled with kitchen food substances such as flour, spices, sauces etc blind-fold guests and see if they can taste and guess what the substances are. The person with the most correct wins the game. OR SIMILAR GAME…
Spice of Life– select 10 or more various spices, place in numbered, cover containers so the guests can not see the contents and have them try to guess all the spices. The should all write down the corresponding name with the numbered container. Once everyone is complete reveal the spices in each numbered bowl, the winner is the person with the most correct answers.
The Longest Marriage – a great game to honour your older guests such as your grandma. Ask everyone to start the game by standing up. Begin by asking those that have been married for less than a year to sit down, then continue to less than 5 years, less than 10 years, etc until there is one person standing that has had the longest marriage out of your guests.
There are many bridal shower games that you can find by simply searching online, and even some that can be customised to suit the bride. Why not make some games that the bride can have as a keepsake after her bridal shower. One of the most popular things to do at a bridal shower or kitchen tea is to have all the guests write a piece of marriage advice for the bride to be.
BRIDAL GIFTS
Gifts at a bridal shower or kitchen tea need not be expensive.
Often lavish gifts are not expected at a bridal shower or kitchen tea (these are saved for the wedding), the simplest gifts can be the best – wooden spoons, tea towels, ladles, potato peeler or any kitchen utensil for that matter are popular Kitchen Tea gift ideas.
A bridal shower gives the guests a little more range of ideas to select from and can be anything of use for the bride and newly weds home.
Alternative to Gifts
If you do not like the idea of "asking for gifts" by having a bridal shower or kitchen tea then here is the idea for you. A fantastic alternative is to ask all your guests to bring along their favourite, family recipe in lue of a gift.
You simply supply a recipe journal on the day of your bridal shower or kitchen tea and ask everyone to copy their recipe into the book.
It is as a great way to kick start your home life together as a married couple. It is also nice if everyone can write the recipe themselves in their hand writing, so ensure everyone gets the opportunity on the day.
The recipe journal will then become a family heirloom you can hold onto for many years to come.