Choose a Minister or Celebrant to Perform your Wedding Ceremony
Finding the perfect minister or celebrant to perform your wedding ceremony can be quite a difficult task. You need to make sure that you and your fiancée see eye to eye with the person marrying the two of you. You will be slowly seeing that everything we discuss, makes up the planning of a wedding and is linked to one another.
This often makes the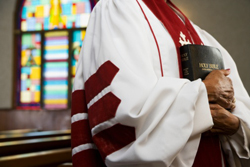 decisions easier, for example, a religious ceremony generally means that it will have a minister and it will be a church wedding (remember there are always exceptions). The easiest way to explain the difference between a minister & celebrant and therefore who is best for your wedding, is a minister (or priest) performs a religious ceremony, and a celebrant performs a civil ceremony.
Finding the Perfect Minister or Priest for Your Wedding
Finding a minister can be much simpler than a celebrant, as in most cases of a religious ceremony, the minister of the church (ceremony venue) you choose will be the one to perform the wedding service.
A minister or priest can often be the same person who performs the weekly Sunday service and perhaps who you have grown up knowing and seeing when you attend church each week. Therefore you will already know the type of service they deliver and if their style suits what you had in mind for your wedding. In large churches there can be a few ministers/priests, meet with them and decide who best suits your requirements.
Finding the Perfect Civil Celebrant for Your Wedding
A civil celebrant should be professional just as you would expect from any other service provider. They should be experienced and have the ability to personalise the service to suit the couple's individual taste and requirements. A celebrant should offer advice, not persuade a couple and impose their own ideas. A good celebrant should be able to inspire confidence in you and demonstrate their qualifications to perform this role confidently just by discussing your options before the big day.
When searching for a celebrant it pays to ask around, friends and family, co-workers even your other service providers such as photographer or function manager. Most people you know will have been to a wide range of weddings and will be able to offer an unbiased opinion on what worked best from the celebrant.
Service providers will have witnessed countless ceremonies and therefore should be able to offer some recommendations on finding a celebrant to suit your needs. You may also like to discreetly observe weddings taking place in public venues to see how certain celebrants in your area perform. At the end of the day simply search around and talk to a number of celebrants, you will soon get a good idea of who is going to provide you with your perfect wedding service.
Words for Your Wedding Ceremony
In either case, know the exact words that the minister or celebrant intend to use for the service, you may not want jokes or other references to be made on the wedding day without prior approval. A wedding service should make everyone attending, witnessing this special day as comfortable and relaxed as possible, making the overall ceremony enjoyable for all involved.