Deciding the Style of the Wedding
When you think about wedding style the terms formal, semi-formal and informal often come to mind. These terms often are the foundations to a wedding style, theme and type. A wedding theme is often decided based on these wedding terms (formal, semi-formal & informal) and will become a constant for deciding on all aspects of the wedding from dresses and suits to wedding invitations and décor.
The most common types of weddings are religious, civil and non-traditional. Deciding on the style of wedding that you would like really depends on what you both feel most comfortable with. Some people will absolutely hate the idea of wearing a suit and tie and therefore a formal style wedding may not be the best match. However if you are like most and want your wedding to have an upmarket, yet relaxed feel, perhaps a semi-formal wedding would be best suited.
Wedding Terms
Below is a general overview for the use of these style terms, this is simply a guide and should not be taken as gospel.
Formal
A formal wedding ceremony is typically a traditional wedding and held in a church or house of worship. It is generally a large wedding with many guests and a sizeable bridal/wedding party with anywhere from six up to twelve or more bridesmaids and grooms-men. The bridal party includes a (bride and groom of course), flower girls, ring bearer and/or page boys, best man, grooms-men, maid of honour/matron of honour, bridesmaids, and junior bridesmaids.
The bride will often wear an elaborate floor length gown with trims and lace, full train and longer style veil. The bridesmaids will also be in floor length gowns and teamed with grooms-men wearing complete formal dress. Guests will also be asked to dress suitable for a formal occasion.
A religious ceremony will take place and be followed by a three course meal for the wedding reception. A formal wedding will be complete with many traditions such as wearing a veil over the brides face, walking down the aisle to here comes the bride and using traditional wedding vows.
Semi-formal
Semi-formal wedding ceremonies can be held at any location the couple decides, a church/chapel, park, beach, home, where ever suits their needs. A medium size wedding with mostly family and selected close friends to witness the vows and celebrate the marriage. The bridal party has a modest amount of bridesmaids and grooms-men from four to eight with sometimes the addition of a flower girl and ring bearer. The bridal party will also have a maid of honour/matron of honour and best man assigned.
The bride will often wear a less elaborate ballerina or floor length gown, often with less beading and lace than a formal gown. A semi-formal wedding dress can have a train, generally a sweep or waltz-length accompanied by a shoulder to fingertip length veil. The bridesmaids generally wear similar length dresses but never longer than the brides. The groom and grooms-men often dress in business style suits. Guests will be asked to dress suitable for a semi-formal occasion.
A religious or civil ceremony can take place at a semi-formal wedding performed by an appropriate officiant.
Informal
Informal weddings are the most relaxed of the three and are generally not religious, they are often either a civil or a non-traditional type of ceremony. There really are no rules for an informal wedding, in most cases they are small events attended by relatives only. Typically a very small bridal party with only a maid or matron of honour and a best man to witness the uniting of the couple.
Informal wedding dresses are often shorter gowns with a mid-calf length hem and often have the appearance of a cocktail dress. Brides often do not wear a veil or have a train and opt for alternatives when choosing accessories. A relaxed style of attire continues to the men, in most cases no suits required. Guests dress in street clothes, tidy and appropriate for a civil ceremony.
Wedding Themes
If I tried to explain every theme you would be here all day reading this article. However from the above I'm sure you can see how the wedding terms have an overall affect on the themes appropriate and therefore determine the wedding style. Just to get you on the right track with wedding themes here are a few suggestions to consider: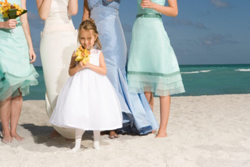 Season Theme – based around a season and time of year using the colours as inspiration and the flowers of that season, e.g. spring, autumn, etc
Beach Theme – based around the water, sand, surf and everything beach related
Outdoor or Nature Theme – based around nature and the outdoor surroundings
Green Wedding – based around having everything environmentally friendly and "green", e.g. using recycled paper for all stationery, Eco friendly confetti, etc
Cultural Weddings – based around you or your fiancées cultural history and traditions
Animal or Insect Theme – based around your favourite animals or insects, e.g. butterflies, doves, etc
Historical or Period Theme – based around a time in history from the food served to the attire worn during that period of time, e.g. Elizabethan, art deco, vintage, etc
Colour Themes – based around one or many colours, e.g. shades of pink, colours of the rainbow, etc
Fantasy or Fairytale Theme – based around your favourite fairytale, e.g. castle locations, glass shoes, etc
There are also many very unique and wacky themes that I've come across during my wedding planning, but again both you and I would be here all day going through all of those.
Wedding Types
As mentioned before the type of wedding refers to the ceremony, the most common type of which are religious, civil and non-traditional. Below is a general overview of these wedding types.
Religious
A religious ceremony is probably one of the most popular and common types of wedding ceremonies. Different faiths have different wedding traditions. Depending on your religion or faith you will be informed of the traditions of your religious ceremony by your minister, priest or rabbi.
If you and your fiancée have different faiths this may be a difficult decision to decide on the service, however discuss your options with both your churches and see if there are options. It may be possible to have two officiates for your wedding ceremony.
Civil
A civil wedding ceremony is generally the sort after option for non-religious couples, in which a marriage celebrant is arranged to marry you. Civil weddings are outside any one faith and are the legal binding of a couple in marriage by an officiate; government official, Justice of the Peace or a Judge.
In Australia civil ceremonies were legalised in 1973 after the government decided that it should not be mandatory for a religious ceremony to mark the event and a qualified civil celebrant would suffice for a wedding to be fully legal. A civil ceremony can take place in a location of your choice or simply at a wedding registrar. A civil wedding can be as large or small as you like and is in no way inferior to a religious ceremony.
Non-traditional
A non-traditional wedding ceremony is in many ways similar to a civil wedding ceremony however it may have as many or as little religious elements as you like. A non-traditional wedding ceremony can be planned how you like and follow some or no traditions, it is all up to the individual couple and their personal views and beliefs.