Search for The Bride & Bridesmaids Wedding Accessories
Something old, something new, something borrowed, something blue and a silver sixpence in her shoe. All of the Bride's accessories are very important from the shoes to the jewellery, these are what will make a statement to the overall wedding gown design.
There are plenty of options for accessories on the market and really the best advice I could give you is to pick a theme and stick with it. Everything will tie together if you just pick options that fit your chosen theme. The perfect example to explain exactly what I mean is "vintage", all your accessories should then fit this theme and make it much easier when deciding on shoes, jewellery, hair accessories, veils, etc.
Likewise don't forget your bridesmaids, their accessories can either bring out their individual flare or bring the look together as a group. As usual before you hit the shops take a look at some wedding magazines and online to get some inspiration of the style that best suits you and your girls.
Why not take a look at the Lissylane Pinterest, full of inspirational images of Wedding Accessories including white and ivory shoes for brides, coloured shoes for brides and bridesmaids, hair accessories, veils, gloves, jewellery (earrings, necklaces, bracelets, brooches) and other bits and pieces (parasols, fans, etc).
The Wedding Shoes
One of the most important accessories you will buy for your wedding day will be the shoes, however not for the reason you think. This isn't actually about style and looks, it's about comfort!!! You will have one of the longest days of your life, you will be on your feet ALL DAY. Firstly standing at the top of the aisle with your groom, greeting your wedding guests, walking from location to location for photos, more greeting guests as you join them at the reception, then up again on your feet for some dancing and the cutting of the cake.
I don't think I sat down for hours at my wedding, and not only is that a worry but the different surfaces that you have to walk on and the crazy positions and poses for photos can be somewhat challenging.
When deciding on your bridal shoes the first thing to consider is the height of the heel. If you are like me heels are scary! In everyday life I don't generally wear heels, so the thought of this was very daunting. A general rule when selecting your wedding shoes is to choose a heel that is no higher than what you would wear on a daily basis, ensure you are comfortable walking and dancing in them.
Functionality should always come first when selecting your shoes, as not many people will even see them if you have a floor length gown and as I said you will be on your feet all day. You may also find that an ankle strap will help those of us that are not as comfortable walking in heels. If you are completely against wearing heels, there are flat options for brides as well, so search around for something that you are comfortable with.
Shoe Tips
Once you have purchased your shoes remember to always take them to your dress fittings to ensure the hem line is the perfect length. Also try to wear them around the house prior to your wedding day to break them in. If they have a shiny sole you should scuff them on some gravel or use some sandpaper so that you don't slip on the your wedding day. All of the advice for the bride should also be used when selecting the bridesmaids shoes, do not pick something that they struggle to walk in, they will be on their feet just as much.
Hair Accessories and Veils
Your wedding day really is the only opportunity that you will ever get to wear a veil, so a lot of brides take this chance to follow tradition and feel like a queen by adding the accessory of a veil to their wedding style. It however is not for everyone, and therefore some brides prefer the addition of a tiara, hair comb or clip, hair/head band, fascinator, even a birdcage veil instead of a full length cathedral veil or simply nothing at all.
You will know yourself if wearing a veil suits your style and picking the right one might come very easy. However, if you want to wear a veil but are not sure which one to select you should consider the length of your wedding dress, the detail on the back of your dress and how simple or ornate you would like the veil.
The more detail on your dress the less ornate your veil should be and vice versa. If there are pretty buttons, lace or beading on the back of your dress that you don't want to hide, then simply select a veil above this length. Also be wary if you are on the shorter side as a long veil can be over the top and distract from the important things: YOU!
The shape of your veil should be selected by using the shape of your face to determine what will best suit you. For example, if you have a round shaped face then select a long and thin veil. Traditionally speaking however a previously married or pregnant bride should not wear a veil, although exceptions to this may be a birdcage or short veil. Selecting a veil is really a personal decision, so be sure to take your time and look in a full length mirror at both the back and front to ensure it is right for you.
Gloves
You may like to add a touch of glamour to your outfit with a pair of gloves. To choose the gloves that will be best suited we need to again look at the style of your wedding dress. Generally speaking, for wedding gowns with sleeves it is best to wear short, wrist length gloves. If you are having a wedding dress with straps or a halter neck then you might like to choose an elbow length or upper length glove. Opera length gloves would be a perfect match with a strapless gown.
The one problem that most brides are faced with that decide to wear gloves on their big day is what to do when it comes to the exchanging of wedding rings. Brides used to wear gloves that were missing the ring finger to avoid this problem, these days most stores sell gloves that have a removable finger so that it can be easily replaced after the ring exchange. For those brides that don't want the hassle then I suggest fingerless gloves are the best option.
Jewellery & Bling
Jewellery can either add or subtract from the wedding dress and overall style, so ensure you choose pieces carefully. Earrings, necklaces and bracelets are great ways to accessorise however be sure to not take away from the detail of the wedding dress. The style of earrings will depend on your chosen hair style, a classic up-do or down, half half, will all affect the length and detail of your earrings.
The neckline of your wedding dress will determine if you wear a necklace or not and the style. Bracelets can be affected by your choice to wear gloves or personal preference. Whatever you decide make sure that you have a clear theme, for example if you decide to wear a pearl necklace then you should also follow through with this in the rest of your jewellery.
Generally a bride will buy the bridesmaids their jewellery for the wedding day as a thank you gift for being attendants at her wedding. When selecting their jewellery you can either keep them all the same or bring out their personal style. Perhaps necklaces with different coloured stones in the girls favourite colours, or something to match an element in their dresses. The bridesmaids can wear as little or as much jewellery as you decide. They may even already have some classic pieces that you decide to have them wear instead of new and bring out their individual personalities.
Why not add a touch of bling to your dress with a beautiful brooch. If you have chosen a simple yet elegant wedding gown then a brooch may be exactly what you need to add some sparkle. A brooch can also be your something old, or something borrowed even your something blue, perhaps a grandmother has a vintage style brooch for you to wear on your big day.
If you have a ribbon with a bow on your wedding dress a brooch can be used to hold this in place, or even be added to your hair style instead of a clip or comb. Different versions of a brooch is a shoe clip, bling for your shoes to jazz up a plain pair of heels and bring them to life. A brooch can also look fantastic on your wedding bouquet to give it some sparkle and style (you can also buy buckles for this purpose but a brooch does the same job).
Other Accessories
There are of course other accessories that you may like to add to your wedding day, either to yours or your bridal parties outfits. Some of these include fans, parasols & umbrellas, evening bags, pantihose or stockings, lingerie including corsets or bustier, garter belts, and bra sets.
Wedding garters are also a traditional item that you might like to wear on your wedding day. The custom of tossing the garter at a wedding is actually a little disturbing when you look into the history of what would happen. Today the tradition is a lot more tame than the 14th century, the groom removes one of the garters (often brides has two, one for a keepsake) and throws it to the single male guests (similar to the bouquet toss to the single ladies). The wedding garter is sometimes used as the something blue for another wedding tradition.
Some of the other accessories mentioned above are great alternatives for those that don't wish for their bridesmaids to carry flowers. Fans come in different materials such as paper, lace, an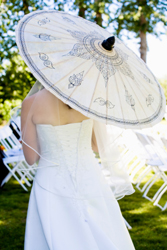 d feathers with a variety of colours to choose from and look quite stunning in photographs. Unlike flowers they are easy to put away when not needed.
Parasols again in paper and lace are another fantastic and varied alternative for bridesmaids. Even the bride herself may opt to have the prop of a parasol or umbrella in photos. Umbrellas are not only practical on a rainy day but also look great! Available in different shapes and styles such as clear with a coloured rim or clear and patterned such as polka dots they may be what you are looking for to add some colour to your photographs.
Not only practical but are a girls ultimate accessory, I'm of course talking about the evening bag. There are special bridal or dilly bags that can be found in bridal stores and online, but don't go past the classic purse, clutch or evening bag for both you and your bridesmaids. Handy to hold the much needed touch up make-up after a long day and to stay looking your best for the reception photos.
All lingerie is a wonderful accessory for the bride, however you must take your dress style into consideration and what is going to work best with your wedding gown. You do not want to see the line of your underwear through your wedding gown. Depending on your shoes you may like to wear pantihose or stockings, there are some beautiful, patterned versions designed for wedding attire.
If you decide that you would like to wear a corset or bustier ensure you try it with your dress, the last thing you want to do is have it pull you in so tight that it makes your wedding dress loose and not fit properly. Again choosing the correct bra for your wedding dress may be difficult and you should seek professional advice to get the right fit and style for your gown.