Search for Wedding and Bridesmaids Dresses
Before you hit the shops the best thing that I can suggest is to not only do some research and get some inspiration but to know your body shape and what wedding dress will suit you best. This also goes for your bridesmaids, there is nothing worse than seeing four bridesmaids all dressed in the same thing and it only suiting one of their body shapes.
Further in this article I'll discuss your bridesmaids dress options in detail as having your girls look stunning but also feel comfortable in what they are wearing on your big day is extremely important. Wedding dress shopping can be quite daunting however there are a few things that you can work out before you go that will make life much easier.
Something else you will need to decide is if you plan to buy your wedding dress and bridesmaids dresses or have them made, generally this will depend if you find it easy to locate your perfect dress in the stores. The silhouette of your wedding dress is the first thing that the groom will see as you make your way down the aisle on your big day, so let's first consider the different wedding dress styles.
Why not have a look at the Lissylane Pinterest: an inspirational Gallery of Wedding Dresses to get some ideas of styles you might like for your dream gown. And while you are there take a peek at the Bridesmaids Dresses and see some of the options available.

 Wedding Dress Styles
There are five basic wedding dress styles that we will focus on, by understanding these styles you will hopefully be able to work out what will best suit your body shape and help you to find your perfect wedding dress. A-Line/Princess, Empire, Mermaid/Fishtail, Ball Gown and Column are the basic five styles that you should understand before going wedding dress shopping. While the following information will help you to understand the shapes and styles better, there is no golden rule when selecting a wedding dress so be adventurous and try a variety of styles on in store.
A-Line / Princess Silhouette
An A-line dress is generally fitted around the bodice and then flows to the ground in the shape of the letter A. The A-line or princess style dress is a simple and classic style that suits most body shapes, it can be as casual or formal as you like and would be one of the most versatile styles. Bead work or lace can make this classic style appear more formal, or perhaps defined with a splash of colour in an added ribbon. The A-line wedding dress can range in length, from above your knee, tea length or full length dress with or without a train.
The princess style of A-line wedding dress has more defined vertical panels and clean lines, this style creates a slimming effect with its smooth seems. This is a flattering style on practically all body types and shapes. It should be considered when trying to slim down a rounded figure or create length for a short stature woman. The A-line style can be used to cover any larger areas on the lower half of the body or even to create the illusion of curves on a slim figure. Different fabrics also make this dress more versatile and make this style one for all brides to consider when shopping for the perfect wedding dress.
Empire Silhouette
The empire dress style has a raised waist line that sits just below the bust, the remainder of the dress flows from this point to the hem. This high-waisted style wedding dress is most flattering to a pear shaped figure and like the a-line silhouette it is very versatile. With a free flowing skirt, lighter fabrics work best for an empire silhouette.
The loose skirt sits lovely on most body shapes and is an appropriate wedding dress option for a pregnant bride. While the empire dress style suits most body shapes it often works best for those with a smaller bust as the high, gathered waist line will draw attention to the chest and neckline. These features therefore help to create the illusion of a fuller bust. Variations can however help to conceal a larger bust with the empire's traditional square neckline, minimising the often accentuated bust from other necklines such as a V or Scoop.
Mermaid / Fishtail Silhouette
The mermaid silhouette is a very sexy design that highlights the curves of the bride's body, having said that it clearly is not for everyone. It contours to the body and hugs the shape of the bride from the bust to the knee, flaring out to the hem in what resembles a mermaids fins or a fishtail (hence the name). This style of dress is very dramatic and can be varied by the addition of sleeves, worn strapless, as a halter neck, or with a plunging neckline. However you might prefer to wear this style dress, the shape can be a statement on its own with as much or as little detail as you like.
This sophisticated design is best suited to a bride with a slender figure, with its body hugging shape. It is the perfect dress to accentuate your curves and achieve a voluptuous shape. No matter what your shape, be sure to feel confident wearing this dress and be comfortable on your wedding day.
Ball Gown Silhouette
The ball gown silhouette is very much a fairytale wedding dress style with its fitted bodice and full skirt. This silhouette can be designed as a one piece or separates and is considered the most appropriate of all the styles for a formal, traditional wedding.
The ball gown like the A-line is extremely versatile and there are many options to achieve a unique look to suit your style. A dramatic look can be achieved by teaming a strapless ball gown silhouette with opera length gloves. Of course a ball gown can easily support a train of any length due to the full skirt of the ball gown style. A ball gown dress can also be as detailed or simple as you like to suit any style wedding and can be achieved with a variety of fabrics. Often a ball gown will require a petticoat or the layering of fabric to support the large structure of the skirt.
The ball gown silhouette suits most body shapes but is better suited to a slender or pear shaped bride as the large skirt can hide a larger lower half. This style will help to create an hourglass figure for the larger busted brides due to its fitted bodice and natural or dropped waistline. Shorter brides should beware as the ball gown skirt can look out of balance. The volume of the dress can also create false illusions of a larger figure and bust, if this concerns you perhaps try an A-line silhouette to achieve a similar style without the fullness of the ball gown skirt.
Column Silhouette
A narrow shaped dress the column silhouette flows straight down from the neckline to the hem. A column wedding dress can be formal or simple making it appropriate for all types of weddings from beach to church. Various necklines and sleeve lengths will change this dress style and change the simplicity of the column silhouette to as detailed as you like. A very elegant dress, the column silhouette works well with different length skirts and can even have a train if you wish.
The column silhouette is similar to the mermaid with the body shapes that will suit this style the best. Brides with a slimmer, narrow body shape should consider a column silhouette wedding dress and should be avoided by the more curvaceous figured brides. It can be worn by both tall and short women, however can be quite a movement restricting shaped dress. Adding pleats or gathering at the back of the dress can make this style easier to move in and won't be as restricting when dancing and sitting. The shape of the column silhouette may also assist shorter brides by giving the appearance of height. This style however does not have much room to hide any flaws or unwanted curves, so keep this in mind if you have problem areas you want to cover up.
Bridesmaids Dresses – Tips and Ideas
There are many options for bridesmaids dresses, and gone of the day where your bridal party have to look like they are going to a school formal. Casual, cocktail length dresses seem to be the look that many Australian brides are going for, allowing their bridesmaids to not only look great but feel comfortable.
What you must remember when shopping for bridesmaids dresses that everyone has a different body shape and complexion, meaning not everyone is going to look fantastic and be comfortable wearing the same style dress. Having said that, of course you want your bridal party to look coordinated and everything tie together with your wedding style.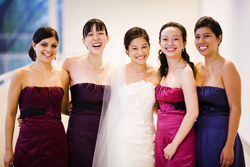 Something to consider is use different hues of your wedding colour, this allows more options for the girls to find something that will suit their complexion. You can take this one step further an let them pick different silhouettes that will best suit each bridesmaid's body. They will all still look united by jewellery, accessories, flowers and colour while feeling beautiful and confident in a dress that suits their individual body shapes.
Believe it or not but black of all colours is becoming quite popular, and practical bringing the LBD into the wedding scene. Black is something that everyone can wear quite easily and colour can be brought out in the accessories and flowers. Not only will the girls be able to wear the LBD after the wedding but will look fantastic teamed with the grooms-men in their suits.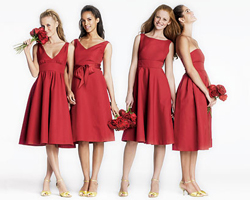 If the colour isn't the problem then try having dresses made in the same fabric and colour but in different styles to suit each girl. Each bridesmaid will be able to pick the silhouette that suits their body shape the best, yet look completely united as a group by wearing the same colour and fabric. The opposite of this even works fantastic and can add a wonderful splash of colour to the bridal party! That is using the same style of dress in different colours, for example working on an Autumn theme choosing reds, oranges and yellow fabrics that make a stunning statement when all together.
If you decide that you want the same silhouette for all of your bridesmaids consider the above dress silhouette styles and what is the most versatile for all body shapes. You will find that A-line dresses are a wonderful option and suit practically all body shapes. The empire silhouette is also a wonderful option especially for a pregnant bridesmaid, so keep this in mind when shopping for the most appropriate dresses.
Hit the Shops or Have it Made – Finding Your Perfect Wedding Dress
The last thing that you need to decide is if you will simply buy your dresses from a bridal store or have them made by a tailor. This is really a personal choice, you may be lucky enough to find the style you are after and your dream dress in a store, and if this is the case life is easy. If not you may decide to go to a dress maker with your ideas. In either case have your dress fitted and ensure it suits your body shape perfectly.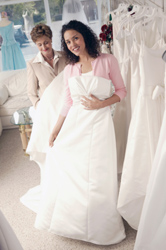 Before you hit the shops do some research and have an idea of the style you are after this way you won't get bogged down with options. And if you decide to have it made take some images with you when you meet your dress maker. They will guide you to what will be possible but ensure they know exactly what you have in mind so you are not disappointed at the end result. There are pros and cons to both options so decide what suits your needs best.
Some may opt to do what I did and buy a wedding dress online and have it made overseas, this will keep the costs down however you need to ensure you are dealing with a trustworthy company. Remember you won't be able to try the dress on before buying so this is a risk you will have to take if you go with this option. Ensure you choose a style you know will definitely suit your body shape.
The other thing that can make buying overseas difficult is the language barrier and communication can be difficult. Some people have bad experiences buying from overseas, where others have fantastic ones (like I did), you must do your research before making any online purchases.