Search for a Wedding Hair Stylist and Make-up Artist
An important part of your wedding day is looking your best – all eyes will of course be on the bride. As part of this you may decide to find a hair and make-up artist to pamper you and get you ready for your big day. There are a couple options depending on your location and where you wish to get ready on the day. Hair and make-up artists well often come to you, however depending on your circumstances you may prefer to go into the salon.
The time taken to complete hair and make-up for your bridal party will vary based on the size of the party and the complexity of the styles. Your selected vendor will be able to give you a guide on the time frame required.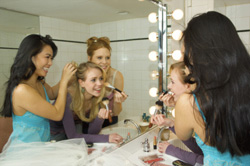 You will often book a hair and make-up artist for you and your bridesmaids, as well as sometimes the mother of the bride and groom. Large bridal parties often require a great deal of time and an early start to the morning allowing enough time for all hairstyles and make-up to be complete and ready for the ceremony.
If you have a large bridal party requiring hair and make-up done for your wedding day it is best to consider having a couple of people for both hair and make-up, therefore working at the same time to get everyone ready faster.
Like selecting any wedding vendor, have a look at their previous work and be sure you are happy with the quality of services they can provide you. Prices will vary across the board and like with everything a range of quotations from various suppliers will help find the best option for your wedding budget.
Wedding Hair Styles
If you are looking to have a dramatic change to your hairstyle such as a colour or a perm, it is best to have this done a couple of weeks prior to your wedding. This two weeks will allow the style to settle in and give a more natural look on your wedding day without losing that much desired vibrancy. It also gives you enough time to change it if you are not happy with the end result.
Generally speaking, wedding hairstyles are either a traditional up-do, styled out (with curls or straight) or a combination of half-half. A good wedding hair stylist should be able to guide you in the right direction and make suggestions for a style that will not only suit the shape of your face but work with your wedding dress and style.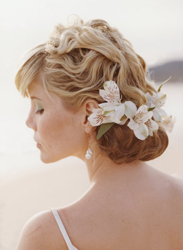 Be sure to tell your hair stylist the shape and neckline of your dress, the wedding theme (formal, informal) and other details that will help guide them to selecting best hair style options to suit the overall wedding style. If you are considering changing your hair colour the stylist needs to be aware of the colour of you dress and the colour theme of your wedding.
Be sure to take along any hair accessories such as tiaras and hair combs or your wedding veil as these will of course impact the best and most suitable hair style for your wedding day. Where possible take along a photo of you wearing your wedding dress for the hair stylist to see the best hair style to balance the style. The more information you can give will help them determine the perfect hair style. If you have a style in mind for your big day take along any inspirational images you may have of similar styles.
You may be required to grow your hair to suit your dream style, try to start this as soon as possible. If time does not allow for this then there are some great options for natural looking hair extensions and hair pieces. Likewise if you want curls for your wedding day, you should test to see that your hair will hold them in place long enough. Your hair type may alter what styles will and will not work for you, so it is best to get the advice of a professional.
Wedding Make-up
Wedding make-up may seem daunting for those that don't wear a great deal of make-up on a regular basis. Make-up for your wedding is however important as it is quite different to the make-up worn everyday. It is specifically applied to make you look the best for photography. It helps to reduce the shine on your face and give your complexion the best balance for photographs.
For those that don't normally wear make-up, sticking with something natural will be more suited to you, perhaps adding a touch of colour in a lipstick. A professional wedding make-up artist will guide you through the best colour make-up to match your skin tone.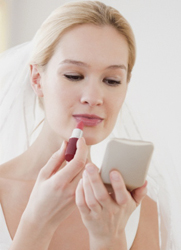 Once again if there is a particular look you are wanting to achieve, try to find inspirational images that you can show your make-up artist. The colours of your dress and wedding theme are important as well to help the make-up artist guide you to the perfect wedding make up for your big day.
Some tips for ensuring your face is at its best on your wedding day include drinking plenty of water, doing your best to stay out of the sun, using a gentle moisturiser and lip balm on a daily basis and avoiding any harsh treatments about a month prior to the wedding. Do not pluck or wax your eyebrows the day of your wedding as there is always a chance of a red rash occurring.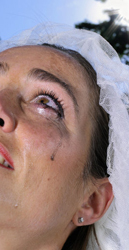 On the day carry your lipstick with you and a compact to reapply where necessary. After you eat or drink and the first kiss as husband and wife you may have to reapply your lipstick. Likewise, if it is a hot day be sure to carry a compact to reapply throughout the day, avoiding that unwanted shine on your skin in photographs. Water proof mascara is also advisable to prevent it running in the case of tears.
Hair and Make-up Inspirational Images
As mentioned previously it is always a good idea to have in mind the styles you prefer for your hair and make-up before you speak with any vendors. The Lissylane Pinterest has a range of inspirational images for brides to help them find a style to suit their needs.
Why not have a browse at the images to get some ideas of the styles that you would like for your wedding day? The images range from natural styles to unique and out of the ordinary, something to suit everyone. Also try looking in hair and make-up stylist magazines, online and the vendors own image collections to find that perfect style.
It is best to have trials for both hair and make-up, you will see this is discussed further in the Lissylane Wedding Check-list: 4 Weeks Out.