Decide on Wedding Decorations for your Wedding Ceremony & Reception
You may be thinking that you are becoming more and more prepared for your big day. This is correct, however there are a few things that you may like to consider and that is wedding decorations to truly display yours and your fiancée's wedding style.
Like all wedding decorations nothing is a must have and couples have different ideas of the perfect wedding, so if it suits you and your budget then run with it.
Wedding Ceremony Decorations
Thinking about your wedding ceremony, no matter whether it is indoors or outdoors there are different decorations that you may feel are appropriate, the following are some to consider.
Pew Decorations
The first that comes to mind are pew decorations, these can range in shape and style. Depending on the style of seating for the ceremony, for example chapel pews or folding, garden chairs may vary the style of decorations suitable.
Pomanders, buckets or cones of flowers, wreath, bows, tulle and ribbons or perhaps free standing decorations for a garden ceremony, just to name a few.
Flowers and Candles
To ensure that your wedding theme and style follows through into the ceremony venue, flowers and candles are often used as decorations. Flowers are used to not only brighten the space but continue the wedding colours. Candles can be used to create atmosphere but also play a part in the ceremony either during a uniting ceremony or to represent a family member that may have passed away.
Scatters and Aisle Runners
When a bride makes her big entrance to walk down the aisle it should be grand for the perfect entrance. Rose petals or other scatters are generally used to decorate the aisle as well as either a colour carpet or some type of aisle runner.
Most chapels and churches will already have some sort of however outdoor weddings may require the purchase or hire of something special to make walking down the aisle that extra bit special.
Registry Table
You will need somewhere to sign the marriage certificate and official paperwork on your wedding day to seal the deal. Most venues will have a table and two chairs for the bride and groom although you may like to decorate these. Chair covers and table linen can customise the area.
Remember that photos will be taken of you both signing the marriage certificate and of the bridal party at this point of the wedding, so ensure it looks how you want for your professional photographs.
Special wedding pens are also available for this part of the wedding and can look good in photos. Often the bride's wedding bouquet is used as decoration on the registry table therefore it is not necessary to have a great deal of table decorations.
Outdoor Wedding Ceremony
Often you will find there is a lot more wedding decorations available to buy or hire for outdoor wedding ceremonies. Chair covers and sashes are often required to decorate plain and generally unattractive outdoor plastic chairs.
As well as carpets and pew decorations other extras for outdoor weddings can include flower urns, topiary trees, candelabra displayed in trees, Bali flags, parasols, decorative Balinese umbrellas or market umbrellas, lanterns, fairy lights, draping, wrought iron and bridal archways, bamboo arbour and pole arrangements, ceremony platforms; just to name a few.
Wedding Reception Decorations
Wedding reception decorations generally focus on the table and those special little extras. Wedding themes can often require additional decorative touches to ensure the theme is clear and concise (this is something to think about when planning your wedding budget).
Reception Tables and Chairs
The first thing that should be taken care of is the table linen, runners, chair covers and sashes, from here you have a blank canvas to work with.
Centre pieces are often the next decision and in most cases are one of two things: flower or candles, sometimes a mixture of both. There are many beautiful arrangements that come in a range of shapes and sizes. Just remember the practicality of sitting at a table with a centre piece, if it is too tall it can make it difficult to even see the person opposite you. There are however other options as well so be sure to put your thinking cap on to work out what will look the best for your wedding reception. 
Ever thought of having a chocolate fountain on each table as an alternative to centre pieces, simply serve with an array of fruit to dip and it is sure to be a hit with your guests.
Also consider your wedding colours and theme when selecting your centre pieces – there might be something to enhance your wedding theme rather than simply flowers or candles.
Other items that may go on the tables along with cutlery and glasses of course are items such as your bonbonniere, place cards and disposable cameras for the guests to use. Consider different scatters such as rose petals to decorate the table.
Table numbers are something that can be personalised and add an element of you and your fiancées' personality to each table, becoming not only practical when there are many tables but a decoration in their own right.
The bridal table is often a little more special and stands out from the rest, skirting and draping can help to achieve this affect. The wedding bouquets will generally be used to decorate the bridal table in addition to other elements.
Be sure to organise a table for the wedding cake to be displayed on, somewhere central for the spotlight to be on both the bride and groom when cutting the cake.
Reception Venue Room Decorations
Think about ways to turn your reception venue into a truly magical display. Organza backdrops to roof draping and complete wall coverage with fairy lights for a touch of magic. Bubble or fog machines to help create atmosphere or flower urns and pedestals to add some natural beauty.
There are many options and some wonderful decorations to bring any room to life. Try oriental lanterns for an Asian theme or perhaps shells for a beach wedding.
Simply displaying a decorated seating plan can be a practical decoration or photo board can create a point of interest to the room for wedding guests to observe throughout the night.
Other Extras to Make Your Wedding Your Way
Consider some other extras like wedding toasting glasses for the bride and groom, a cake and knife serving set for cutting the wedding cake, a guest book for your guests to show their attendance on your big day, a wishing well or even the ever popular lolly buffet.
Guest Book Suggestions for your Wedding Day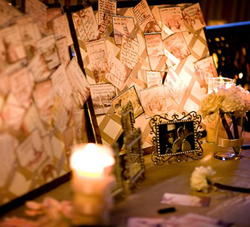 There are some great alternatives for wedding guest books these days. What used to be a simple book with room for the guests to sign their name and write a little message have transitioned into a wide range of unique and creative ideas.
PHOTO & CANVAS GUEST BOOK ALTERNATIVES
Photo canvas and framed boards for guests to sign is growing more and more popular for the bride and groom to display on their wall after the wedding day.
Polaroid cameras and photo booths for the guests to take their own photo and write a message is a great way to then display the memories from the day.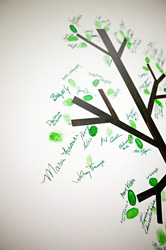 FINGER PRINT GUEST BOOK ALTERNATIVE
A finger print guest book completed on canvas is something quite special and different for your big day.
Each guest uses easy to clean off green finger paint and puts their print on the canvas to form a tree, the guest then signs their name beside their print.
Simply prepare the branches and trunk on the canvas prior to the wedding day.
WISHING TREE GUEST BOOK ALTERNATIVE
What about a Wishing Tree: decorating a tree branch with beads, placed in a pot or vase and provide cards for guests to write on their best wishes/advice and hang on the tree. Simply have ribbons tied to the cards for them to hang.
This is also a great way for them to write advice and wishes rather than just signing their name.
Similarly, cards with mini pegs and a line to hang them on not only adds to the decorations of the room but makes a nifty guest book when compiled.
CUSTOMISED SCRAP BOOKING GUEST BOOK ALTERNATIVE
Customised guest books can also be a real hit where guests are asked to draw an image of themselves, are asked questions about the bride and groom (share memories, etc) and share advice for the bride and groom.
Providing scrap-booking supplies, digital cameras and printing docks can be a way to involve your guests. Each guest is given a blank page to be creative and make a more memorable guest book by compiling the pages after your wedding day.
BUDGET CONSCIENCE GUEST BOOK ALTERNATIVE
A wishing jar or vase with provided cards and pens for guests to write on is a simple and affordable alternative guest book for those working to a strict budget.
Wishing Well Ideas with a Difference for your Wedding Reception
Like a guest book, wishing wells come in many forms. Some of the typical wishing wells include your standard decorated well, various shaped boxes and treasure chests.
However also consider some of the different and unique options such as bird cages, large lanterns, bird houses, doll houses, mail boxes, luggage bags and stacked gift box wishing wells.
Bowls, baskets and vases will also do the job quite easily if you don't want the expense of something you won't use again.
Be sure to provide envelopes just in case your guests have not brought their one for their wishing well contribution.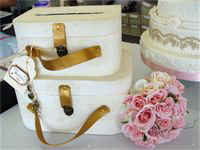 To ensure guests know whatever it is that you decide to go with is your wishing well include a wishing well poem close by or be sure to label it accordingly.
Also place the wishing well by or on your provided gift table to help identify it.