Plan and Book Your Honeymoon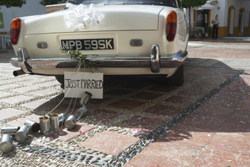 Planning your honeymoon can be just as important as the wedding day itself. Your honeymoon is a time for you to spend together alone as husband and wife, celebrating your marriage.
A honeymoon should be very romantic and an intimate time to spend together, kick starting your relationship in a positive way.
Honeymoons have become more and more exotic with newly weds travelling overseas to romantic locations. However, that's not to say you can not have a good time somewhere local or in your country. It is not necessary to travel a great distance to spend a romantic time together.
A honeymoon is more than just a holiday and will be a time you will cherish for the rest of your lives together. Like your wedding, you should plan a honeymoon you will both enjoy. There is nothing wrong with enjoying the surroundings, however remember to take some time out to just be together and enjoy the first moments of married life.
Organising Leave from Work 
Depending on your circumstances the length of your honeymoon will vary generally on the time you can have away from work. Most weddings are planned well in advance, usually over the time frame of a year or more, therefore you should be able to plan ahead for your honeymoon.
Each situation is different, although if you are in full time employment you are eligible for at least four weeks paid annual leave (annual leave is personal leave accumulated over time).
Ensure you organise and book both your annual leave well in advance, especially if you work in a small organisation as sometimes it is only possible to have one employee away from work at a time. Likewise if you are employed in a large workplace you should act fast to ensure you do not miss out; especially if there are quite a few staff members that require annual holidays at the same time.
Your honeymoon may be directly after the wedding or depending on your job role you may have a break in between the wedding and your honeymoon. Having a gap between the two events is often required of professions such as teachers, generally planning their wedding around school holidays where possible to avoid this.
You may also like to commence your annual leave a few days prior to the wedding to relieve stress and aid with preparing for the wedding day itself.
Local or Inter-state Honeymoons
Just like a wedding, honeymoons can be quite expensive and therefore everyone has a different budget that affects the destination locations available. Not everyone can afford to have a month away or an overseas honeymoon, perhaps you may consider a local or inter-state honeymoon as an alternative.
There are many beautiful places to visit in your local area, even just a few hours drive away. Why not investigate your local surroundings and tourist areas? You just never know what you might find.
Why is it that we always feel a holiday should be about going miles away from our home town, yet out of towners visit all the time? Consider enjoying what tourists have for years, find a cute local bed and breakfast and enjoy what is on offer. Take advantage of the time together no matter where you honeymoon. After all, as long as you are together enjoying each others company, what does it matter which part of the world you are doing it in?
Every town and every city has something to offer. If you want to get away, then how about an inter-state honeymoon. Flights and accommodation are much more affordable than long distance travel, so this might be the option you have been looking for. If you book in advance you will find that flights are well priced and many accommodation options offer special deals for a lengthy stay.
Overseas Honeymoons
Many couples use their honeymoon as an opportunity to travel overseas to exotic locations that on a normal holiday they might not be able to accommodate. There are so many beautiful locations to select from and really is up to the individual couple as to what suits their needs.
Overseas honeymoons however do take a little more planning and research, especially if you have never travelled to the destination in the past.
If you are not confident planning your honeymoon yourself then perhaps a travel agent is the way to go. You do not necessarily have to book through an agent but it can be helpful to discuss options with them as part of your travel research.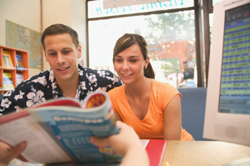 Most travel agents can also set up a wishing well for your guests to contribute to your honeymoon as an alternative to a wedding gift. Read more about Wishing Wells in the Lissylane Wedding Check-list.
Before travelling overseas it is necessary to research the customs and other entry and exit conditions for the countries you intend to visit. Be aware of local laws and penalties as they DO apply to you as a traveller, even those that appear harsh by Australian Standards.
Research climates and natural disasters that may affect your visit, and consider the appropriate travel insurance for your honeymoon. Ensure you are aware of all the risks before you travel – play it safe by being a well informed traveller.
Arrange Passports & Visas
If going overseas for your honeymoon you will need to arrange the appropriate documentation such as passports and visas depending on your length of stay in another country. Again this should be done well in advance as often these official documents can have lengthy processing times.
Obtaining a Passport
You will need to ensure your passport is current and valid for the time of travel, if not then you may have to pay a renewal fee to update for your honeymoon travels. If you do not have a passport, then you will have to take the necessary steps to obtaining one to leave the country and enter another.
In Australia, either visit a local Australia Post outlet and complete an application form or visit the Government's passport website to complete online and print the application for an Adult Passport.
The online form is a step by step guided document that requires you to fill out personal details including information about your citizenship. Obtaining a passport requires copies of your birth certificates, a photo that meets the passport standard requirements (can be taken at most photo printing outlets or the post office) and a face to face interview.
There is a fee to obtain a Standard Passport (and other travel documents if required) these can be found on the Government's Passport Website. The fees vary, however for a standard passport prices start at $200.00 AUD.
Please Note: this is only a general and basic guide and more information should be obtained from either the Government website or your local Australia Post Office outlet.
Overseas Visa
A visa is a form of permission that should be obtained by a non-citizen for overseas travel to enter, transit or remain in a foreign country. A visa by no means guarantees you entry to a particular country and refusal of entry may still occur depending on the regulations of the country you intend to travel.
Only the country you plan to visit can provide all the necessary and current information about their full visa requirements. Visit the Australian Government Department of Foreign Affairs and Trade website for the appropriate links and direction on contacting the nearest embassy or consulate for the country you intent to visit.
Like obtaining a passport, you must organise your visa well in advance of travel. The Smartraveller website can also offer further advice on travelling overseas.
Please Note: this is only a general and basic guide and more information should be obtained from the Government website, the countries nearest embassy or consulate or the Smartraveller website.
Make an Appointment to See a Travel Doctor
Health issues exist in all countries from first world to third world. No matter where you intend to honeymoon you should consult either your local GP or better yet a Travel Doctor who is up-to-date with all requirements for overseas travel.
Even if you are not going overseas for your honeymoon, you may prefer to have a general check up prior to your holiday.
When travelling overseas you may be required to have some vaccinations depending on the travel destination. There are well known health risks associated with many countries and your travel doctor can provide you with further information on how to protect you and your family.
Be sure to consult a doctor regarding all your travel health precautions including any pre-existing conditions that may affect your ability to travel.
You may also like to take out an appropriate Travel Insurance package to protect you against financial loss due sickness or injury on your honeymoon.
Honeymoon Packages
No matter where you decide to travel be sure to investigate all package deals on offer. Many popular honeymoon destinations have flight and accommodation honeymooners packages that can included added benefits.
Like with any package deals ensure you are getting value for money and not just what appears to be an offer you can't refuse. Do you need what is included in the offer or could you in fact save money by planning and booking items individually and independently? Be sure you know what is really on offer and consider the cost and value of the package contents.
Generally accommodation packages can include food offers as well, either at the venue or local discounted options. You should consider how this will affect your honeymoon and if it is a convenience or a restriction for your plans.
Also the quality and if you like the menu should also affect your decision. Never pay for something you do not need or like just because it seems like you are getting more for your dollar.
Points to Consider for Planning Your Honeymoon
The key to planning the perfect honeymoon is research and allowing enough time to organise every aspect of your holiday as husband and wife. Some points to consider when planning your honeymoon:
Have you got the appropriate clothing and protection for the destinations weather and climate conditions – sun protection, etc?
How will you get to your destination and the airport (then home again) – hire car, air train, bus, taxi, etc?
Do you need transport for your time away – hire car or public transport etc?
Have you got appropriate travel insurance in case something goes wrong – natural disaster, lost luggage, accident or illness?
Have you protect your luggage and belongings against theft?
How will you communicate if English is not the spoken language of your destination?
Have you got travel money and the correct currency for your honeymoon destination?
Have you researched the accommodation and living standards of your destination?
Do you know the locations of important tourist information centres and your countries embassy in case of an emergency?
Are you aware of the local cuisine and how it may affect your health + prevention?
Do you know the local laws and customs of the country you are visiting?
As long as you research your honeymoon destination thoroughly you will be able to relax and enjoy, celebrating after your wedding day and what lies ahead for your married life together as husband and wife.